Glass art
A Schedule of Music and Contemporary Art at DAFA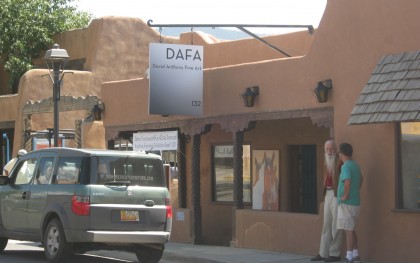 Save the Date
Out of This Earth
Ceramic Sculptures by Hank Saxe
May 10 – 29, 2014
Artist Reception: 4pm – 6pm, Saturday, May 10
Spring Experiment
New Works by Seamus Mills and J Matt Thomas
May 31 – June 29, 2014
Artist Reception: 4pm – 6pm, Saturday, May 31
Cantos de Taos Quartet
Performance at David Anthony Fine Art Gallery on Friday, June 13 at 6pm
This event is in partnership with Taos Opera Institute (TOI).
Larry Bell
Larry Bell's first Taos exhibit in over 15 years.
"Orange Juice and Teeth – Memories of 9/11"
July 5 – September 21, 2014
Artist Reception: 4pm – 6pm, Saturday, July 5
Taos Art Glass Invitational
DAFA will be hosting the fifth Invitational sponsored by the Taos Institute for Glass Arts.
October 11, 2014. Collector's pre-show October 10, times to be announced.