Larry Bell
9/11 and the Time Machine — Larry Bell Opening at DAFA July 5, 2014
This slideshow requires JavaScript.
Larry Bell's Rare "Teeth in Orange Juice" Series to Exhibit in Taos.
Opening on Saturday July 5, 2014 at David Anthony Fine Art in Taos, Larry Bell will exhibit a rarely shown series of collages on canvas created in the aftermath of September 11th.
If you've studied art history anytime since the early 70's, you know of Larry Bell. In Taos, we know Larry as one of our own internationally acclaimed artists. Earlier this year, Larry returned home from London after a sold-out exhibition at the White Cube. Shortly afterward, he was in São Paulo, Brazil with another very successful show. After over 50 years of art making, Larry is at the top of his game. Now, DAFA welcomes Mr. Bell back to the Taos gallery scene after a long absence.
The series, which began with a different intention prior to that event, according to Mr. Bell, "became the color of the fireballs, and the fragments of the papers and collage elements became the strange imagery that is seen in the works. The acrid greenish color of the dust and detritus in the air became part of the imagery also. My work became totally driven by the imagery and emotion of the incident and was totally emotional and intuitive . . . in the 30 days after the event I had made about 30 canvases with this kind of imagery on it."
The Collages are paired with the Time Machine, an installation of a reclaimed experiment from Los Alamos Laboratories, that compresses reflected and transmitted light so a reflected image is superimposed on whatever is transmitted through the glass of the sculpture. To Mr. Bell it suggests "the compression of the materials of the buildings on the casualties inside the structures as if the people had become parts of a flat collage."
The Time Machine, paired with the canvasses, creates the emotional and the intuitive surreal images of witnessing that event. Mr. Bell adds, "I like these works only because they are so totally honest. The only title I could think of for these odd images was "Teeth in Orange Juice"." So "Teeth in Orange Juice" they are named, and on exhibit only for the second time in more than a decade.
Concurrently showing during Bell's summer exhibition will be abstract works by Cody Riddle. Another Taos artist, Cody has exhibited several times at the Harwood Museum of Art and was part of a 50-year retrospective of abstract expressionism at Hulse-Warmen gallery in 2010. Not only will new painted works by Riddle be available, but also sculptural wall mounted works of vibrantly painted, ingeniously sliced branches of Pinõn. At first look one is struck with the beauty of the organic sculptures, followed immediately by wonderment at how the work was accomplished. Stay tuned for a separate reception for Cody Riddle later this summer.
Larry Bell's "9/11 and The Time Machine" opens at David Anthony Fine Art on Saturday, July 5, 2014, 4:00-7:00pm at 132 Kit Carson Road in Taos, New Mexico. Both exhibits continue until September 21.
David Anthony Fine Art, (DAFA), located at 132 Kit Carson Road in Taos, New Mexico, presents the most innovative artworks from Taos and around the world, considering all genres, mediums and artists, in an environment that is accessible and welcoming to all.
A Schedule of Music and Contemporary Art at DAFA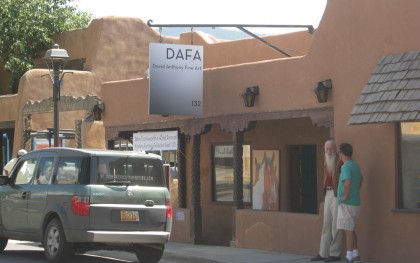 Save the Date
Out of This Earth
Ceramic Sculptures by Hank Saxe
May 10 – 29, 2014
Artist Reception: 4pm – 6pm, Saturday, May 10
Spring Experiment
New Works by Seamus Mills and J Matt Thomas
May 31 – June 29, 2014
Artist Reception: 4pm – 6pm, Saturday, May 31
Cantos de Taos Quartet
Performance at David Anthony Fine Art Gallery on Friday, June 13 at 6pm
This event is in partnership with Taos Opera Institute (TOI).
Larry Bell
Larry Bell's first Taos exhibit in over 15 years.
"Orange Juice and Teeth – Memories of 9/11"
July 5 – September 21, 2014
Artist Reception: 4pm – 6pm, Saturday, July 5
Taos Art Glass Invitational
DAFA will be hosting the fifth Invitational sponsored by the Taos Institute for Glass Arts.
October 11, 2014. Collector's pre-show October 10, times to be announced.