Taos
Tina Mion, Live at DAFA
Tina Mion is describing The Juggler at the opening reception for her show, Carpe Diem, at David Anthony Fine Art November 22. Those in attendance interacted with her inspiration and process. We'll keep you informed of future presentations, this show is up through March 1, with works remaining indefinitely.
Tina has provided original watercolor studies of The Spectacular Death Spoon series for purchase. She has never before offered the sale of her studies.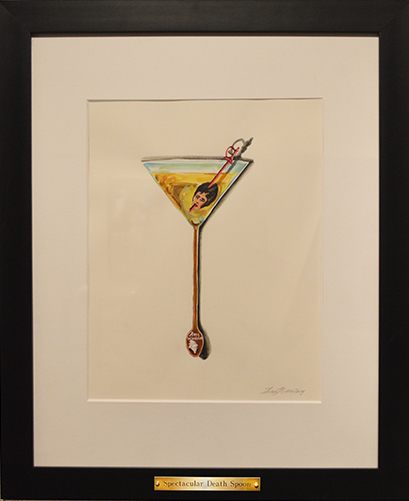 Amy Winehouse, "One of history's most unique exits"
Study in watercolor for the Spectacular Death Spoon series.
---
Handcrafted furniture by David Mapes continues to be a mainstay of the gallery. Pictured is a custom media cabinet with hand-embossed hollyhocks in copper. Made in Taos.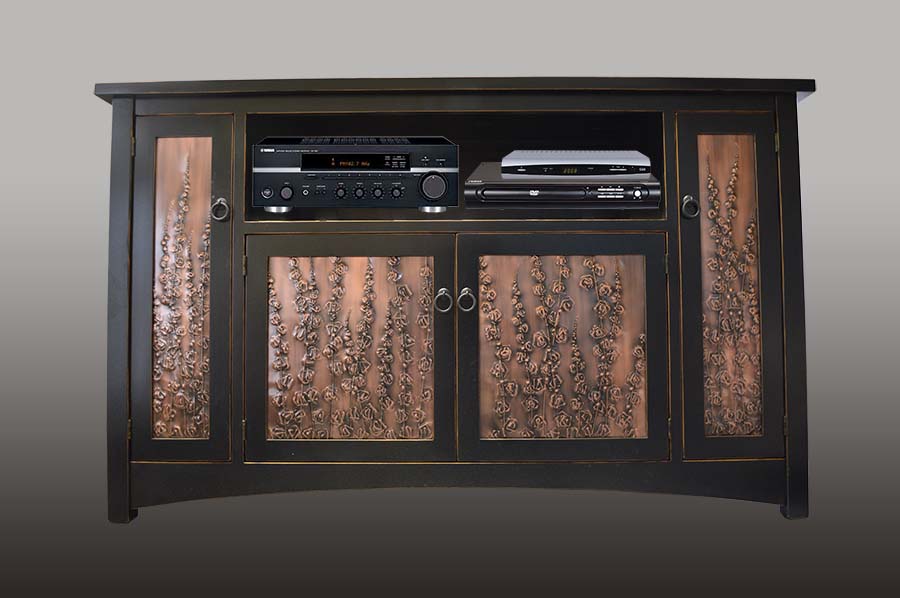 ---
Film adds new dimension to Invitational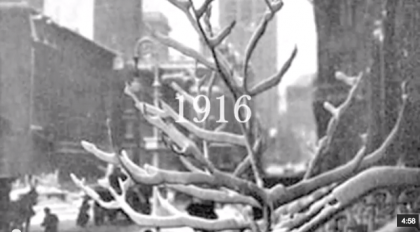 Looking for Mr. Stieglitz
by Steve Zeifman
Modern art meets the Harlem renaissance at 291 Fifth Avenue where Georgia O'Keeffe, who is looking for Mr. Stieglitz, encounters the unexpected. Set in 1916 in New York City, O'Keeffe meets Hodge Kirnon, originally from the West Indies and now weary from many years of navigating the "American Dream." Georgia finds much in common with this stranger as she deals with her own insecurities about being an artist and a woman in a man's world.
DAFA Photography Invitational 2013 Aug 02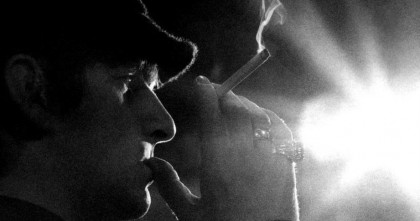 The Beatles are coming to Taos
In a landmark exhibition for Taos and the state of New Mexico, a series of rare photographs taken during the Beatles' inaugural United States stage concert will be the highlight of the Annual DAFA Photography Invitational to be held at David Anthony Fine Art (DAFA) during the month of August.
These important works of renowned photographer Mike Mitchell will include new, limited edition prints of photographs taken during the Beatles' 1964 performance in Washington, DC, two days after their first appearance on the Ed Sullivan Show.  Mitchell, then eighteen years old, was granted a press pass, which remarkably gained him access to this defining moment in American pop culture. Having no flash available for his camera, Mitchell was forced to use existing light.  This would prove to be fortuitous with the advent of digital photographic technology, when his photographs could be fully realized.  Today, Mitchell's dynamically nuanced images are appreciated for their artistic merit and historical significance.
A 2011 auction at Christies in New York entitled "The Beatles Illuminated:  The Discovered Works of Mike Mitchell," featured 46 prints in a special edition of one each. Many of the same photographs will be featured at DAFA, which are now widely regarded as iconic portraits of the world's most famous foursome.  The auction achieved over $360,000.00
DAFA owner David Mapes is particularly pleased to be offering Mitchell his first gallery representation with a show entitled 'Heading for the Light'.  Noting that Taos became a Mecca for artists captivated by its uncommon light, Mapes said, "In this incredible Beatles' series and in his newer, profoundly mystical works, Mitchell's photographs likewise mesmerize the viewer with their play of light and shadow that create intense visual effects".
The Annual DAFA Photography Invitational is also hosting an array of accomplished and emerging photographers including local legend William Davis who remains exclusively represented by the gallery.  With a career spanning five decades and touching upon the celebrity for which Taos is also famous, Davis is known for his experimental use of film combined with digital art technology.
The Invitational will feature non-regional photographers and subjects as well.  "DAFA is a new venue for fine art, and my goal is to stretch the boundaries of my clients," said Mapes.  "Art is an emotional adventure, and is as much a part of the Taos experience as its hiking and rafting.  If DAFA can contribute to the exploration of new things, then I have succeeded."
The Annual DAFA Photography Invitational will host an opening reception on August 2, 2013.  Mike Mitchell will be represented by the gallery indefinitely.  David Anthony Fine Art is located at 132 Kit Carson Road, Taos, NM.
For further information regarding this event, or to schedule an interview with David Mapes or the artists, please contact David Mapes at (575) 751-0075.
Photography?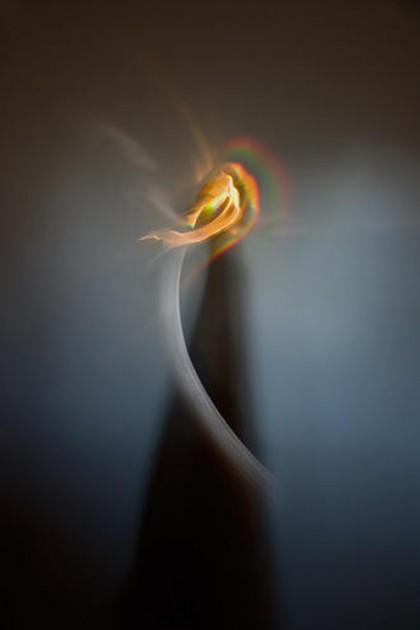 As we are building the first annual Grand Exhibition of Photography for Aug 02, 2013, much discussion about the medium has occurred.  Asking if photography is art quickly degenerates into a "what is art" discussion, which is age-old and answer-less.  Ask the question "what is fine art" and you have another discussion altogether.  So for now I will avoid those questions and ask "what makes one photograph better than another?".  Mike Mitchell, one of the photographers participating in the exhibition offers this:  "The singularity of vision by the photographer".
Clearly there is much discourse on the matter of photography.  One thing I'm impressed by is how aptly "photography" still describes the medium in spite of the technical explosion as of late in regards to cameras, printing processes and new creative avenues available.  Capturing light is what it's still all about, recording photons.