San francisco de asis
Homage to San Francisco de Asis Mission Church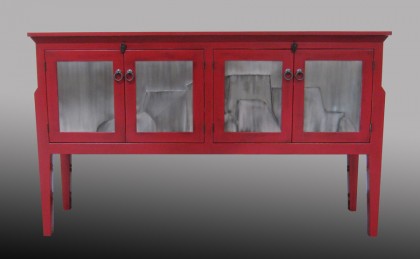 David Mapes pays homage to this beautiful and historical church with this new piece of furniture:
New Mexico Deco Furniture
Wood, Tin Plate
60″w by 18″d by 36″ tall
San Francisco de Asis Mission Church is a church built between 1772 and 1816. It is located on the plaza in Ranchos de Taos, itself a historic district named Ranchos de Taos Plaza, about four miles southwest of the town of  Taos, New Mexico.
Construction on the church began around 1772 and was completed in 1815 by Franciscan Fathers and its patron is Saint Francis of Assisi. It is made of adobe as are many of the Spanish missions in New Mexico. It is located a few miles south of Taos Pueblo and has inspired among the greatest number of depictions of any building in the United States. It was the subject of four paintings by Georgia O'Keeffe, and photographs by Ansel Adams and Paul Strand. Georgia O'Keeffe described it as, "one of the most beautiful buildings left in the United States by the early Spaniards."
It was declared a National Historic Landmark in 1970. It is also designated as a World Heritage church.