David mapes
Photos of Miniature Pyrotechnic Tableaus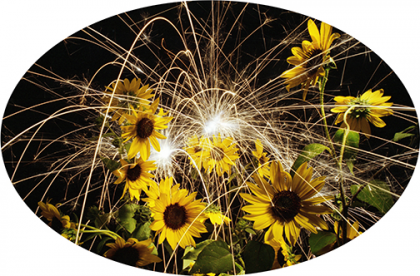 "Exothermic Reactions" Exhibition Features David Mapes' Photos of Miniature Pyrotechnic Tableaus
Artist's love of science and nature combine to create miniature pyrotechnic compositions.
David Anthony Fine Art, Taos, NM, is currently featuring the photography of its owner, David Mapes, in an exhibition titled "Exothermic Reactions" from December 15, 2013 through February 28, 2014. The seven photographs—taken with film and output on archival silver rag watercolor paper with archival ink—capture the very moment, as required by the pyrotechnic subject matter. "Pyrotechnics is an amazing art form that uses chemicals to produce noise, light, smoke and sometimes floating materials. Fireworks can be designed to burn with flames or sparks of many colors, typically red, green, blue, purple, gold and silver and they have been around since 7th Century China, where they were invented, says Mapes. "Pyrotechnics is an extraordinary way to be expressive, it is a rare skill set and there is a certain level of showmanship here that I wanted to photograph," he added.
Mapes' many years experience as a licensed pyrotechnician inspired and informed this work greatly, especially considering the technical challenges involved and the timing necessary to achieve the desired outcome. Aside from the chemical compounds used to create the miniature pyrotechnic display, which can vary greatly and can include chemicals such as iron, titanium, and zinc (mixtures of which can burn in different colors), there is wiring and staging involved, plus setting off the reaction that is often over in a fraction of a second. "There are certain incongruences about this work and I like the combination of art and science that these photographs represent," said Mapes, who is also a well-regarded custom furniture maker.
His experience as a pyrotechnician includes several hundred large firework shows for rock & roll bands such as The Who and Journey, ten years of indoor pyrotechnics for the Houston Livestock Show and Rodeo and the Hollywood Bowl.
An exothermic reaction is a chemical reaction that releases heat and in this case creates fire that illuminates, and also becomes part of, the compositions the artist has assembled. Combining the chemical combustion with other subject matters, from a field full of sunflowers to a cast of his head, the expression in each photograph changes with each tableau.
The photographs in "Exothermic Reactions" are available for sale starting at $600.
This slideshow requires JavaScript.
---
David Anthony Fine Art, (DAFA), located at 132 Kit Carson Road, Taos, New Mexico, was founded by long-time Taos furniture maker David Mapes in 2011. Each year, the gallery hosts the DAFA Photography Invitational showcasing photographers from throughout the world. The mission of DAFA is to exhibit the work of accomplished fine artists and exceptional crafts people in a setting that is welcoming and accessible to all.
Media Contact:
Jennifer Padilla
JLH Media
505-577-1347
jpadilla@jlhmedia.com
Film adds new dimension to Invitational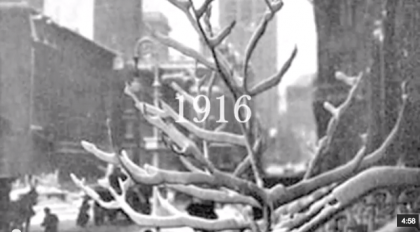 Looking for Mr. Stieglitz
by Steve Zeifman
Modern art meets the Harlem renaissance at 291 Fifth Avenue where Georgia O'Keeffe, who is looking for Mr. Stieglitz, encounters the unexpected. Set in 1916 in New York City, O'Keeffe meets Hodge Kirnon, originally from the West Indies and now weary from many years of navigating the "American Dream." Georgia finds much in common with this stranger as she deals with her own insecurities about being an artist and a woman in a man's world.
Homage to San Francisco de Asis Mission Church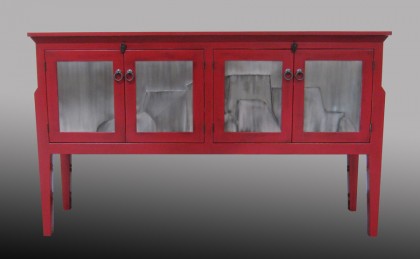 David Mapes pays homage to this beautiful and historical church with this new piece of furniture:
New Mexico Deco Furniture
Wood, Tin Plate
60″w by 18″d by 36″ tall
San Francisco de Asis Mission Church is a church built between 1772 and 1816. It is located on the plaza in Ranchos de Taos, itself a historic district named Ranchos de Taos Plaza, about four miles southwest of the town of  Taos, New Mexico.
Construction on the church began around 1772 and was completed in 1815 by Franciscan Fathers and its patron is Saint Francis of Assisi. It is made of adobe as are many of the Spanish missions in New Mexico. It is located a few miles south of Taos Pueblo and has inspired among the greatest number of depictions of any building in the United States. It was the subject of four paintings by Georgia O'Keeffe, and photographs by Ansel Adams and Paul Strand. Georgia O'Keeffe described it as, "one of the most beautiful buildings left in the United States by the early Spaniards."
It was declared a National Historic Landmark in 1970. It is also designated as a World Heritage church.