DAFA's Spring Experiment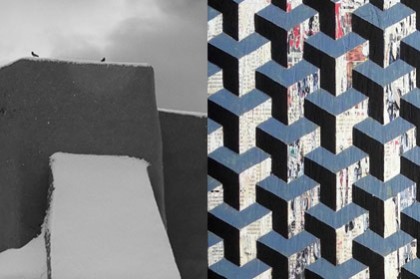 The Exhibit
The experiment that is DAFA's Spring Experiment is a re-mix of creativity and chaos, and identity and history. Opening May 31, 2014, two Taos artists explore the patterns of space and time, pushing perceptual boundaries with painting, collage, photography and computer visualizations. J. Matthew Thomas and Seamus Mills use the usual, the debris, and the discarded of our lives to push our creative sights toward emergent perspectives.
For J. Matt Thomas the exploration is of the "gray zone' between chaos and order. Thomas says, "I translate the re-organization of chaos in my work, bringing a sense of order and presentation."
Please join us to become a part of this creative re-mix in patterns and process which is the DAFA Spring Experiment.
EXHIBITION: May 31 – June 29, 2014
RECEPTION: 4pm – 6pm, Saturday, May 31
LOCATION: David Anthony Fine Art
132 Kit Carson Road, Taos, NM
J Matthew Thomas became highly trained in constantly re-organizing himself to his environment – treating chaos with a calm sense of order and presentation. Mr. Thomas is a trained architect, and brings this play between architecture and construction into his work. Having studied at Kansas State University and then at Columbia University, his canvases seep with a three-dimensional sense of his architectural work. His process of creating is additive and subtractive, not unlike the practice of architecture and construction. He uses tools and techniques of the architect and builder. He uses existing patterns of things construed as dirty, wasted and non-confirming to "create a piece of work that transcends chaos into a visual rhythm of texture, pattern and material." The patterns and geometries reflect a diversity of cultural nuances – drawing from historical references, sacred geometry to his own inspired patterning.
Mr. Thomas experiments with pattern and decoration concepts to embody the "remix" ideology of the derivative nature of creativity. Distinct boundaries that are tidy and clean do not exist, but a layered and interwoven set of patterns that conflict with reality or that are reality is at the core. Together something new emerges, a new order from which we can view our identities. He says, "my art is constructed to delineate an order to the mash-up of paper and paint, and these lines become my mask reflecting any number of moods, personalities, and cultural references."
Seamus Mills works are an experiment in re-visioning the normal and the unseen with patterns to form new perceptions. Steeped in history and story, Mr. Mills brings unseen stories of day-to-day into print. His own remarkable histories between Virginia and New Mexico give him context across time and culture that become central themes in his work.
A prolific photographer, Mr. Mills came to his photographic process after a broken hand forced him out of woodworking and wood-carving as a medium. His process includes re-crafting his photographs to create a series of perspectives, insights and histories to his subject. He says, "historical changes in perspective pop up in my work. As I walk around I see something odd or small, and I blow it up as a central figure. That piece becomes the story. It is not what people first notice, but what they don't notice that becomes my central focus."