Gallery News
Taos Art Insurgency: The New Protagonists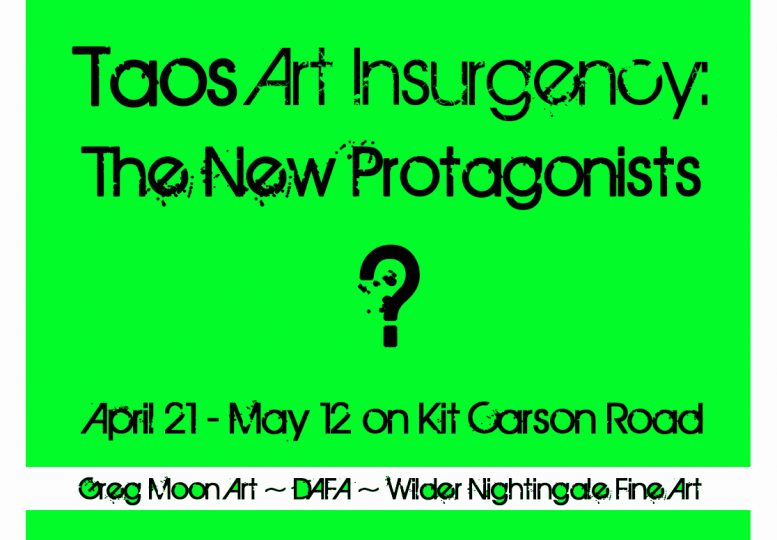 Who will be the artists leading
Taos into the New Millennium?
Unquestionably, Taos has been a center for artists and art lovers for over a century.  From the arrival of the first members of the Taos Society of Artists to the seminal movements of Modernism, Abstract Expressionism,  and Minimalism which flourished here, this little mountain town has been far from soporific in promoting the riches behind every museum and every gallery door.
Exhibits such as the outdoor PASEO event and the Harwood Museum of Art's "Orale!  Kings and Queens of Cool" have driven even more life into the town's 7000-foot high atmosphere, rocking lowbrow and pop-surrealist artists, and techno, installation, performance, and projection forms.
And with a burgeoning, reinvented springtime schedule of festivals, craft fairs, gallery walks, and literary and musical events, a new national juried exhibition is poised to begin in April 2018.  The Taos Art Insurgency: The New Protagonists will introduce the next wave of artists that will be leading Taos into the new millennium.
Entries will be accepted in painting, drawing, printmaking, photography, sculpture, mixed media, fiber arts, digital printed media, and assemblage, with giclees being restricted to the photography and digital media categories.  All U. S.-based artists over the age of 18 are encouraged to enter.
David Anthony Fine Art, Wilder Nightingale Fine Art, and Greg Moon Art, all located on historic Kit Carson Road, will host the national show, with David Mapes, Rob Nightingale, and Greg Moon serving as jurors.  Taos Art Insurgency will run from April 21-May 12, 2018.
Entry deadline is midnight, April 5, with a minimum of four and a maximum of eight images required per entry.  Fees collected from entrants will support professionally printed invitations with a national mailing, email announcements and website presence, coverage by regional and national press, an opening reception, support of gallery staff, and an important exposure to prominent collectors, curators, and publishers from the world of visual arts.
Moon said, "This is an opportunity for edgy new artists to use the cache of Taos for breaking into the mainstream, and we are quite excited by it. We're encouraging all those interested to contact us as soon as possible."