David Anthony Fine Arts Presents John Farnsworth Kachina Paintings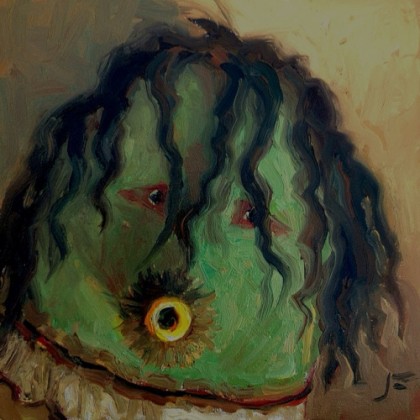 44th annual showing is second to be held at David Anthony Fine Art

David Anthony Fine Art, Taos presents an exhibition of John Farnsworth Kachina paintings on view from September 1, 2013 through September 30, 2013. An opening reception will be held on September 6, 2013. This exhibition is the 44th annual showing of the paintings, although the exhibitions have taken place in different locations throughout the years and includes forty, 6 in. x 6 in. or 9 in. x 12 in. works of art.
John Farnsworth was born in Williams, Arizona and grew up in Northern Arizona, in the shadow of the Navajo and Hopi Reservations. At the age of nine, he visited Taos, his mother's birthplace and realized he would be an artist. He studied independently, and painted while working at jobs that included managing a small private museum and Indian shop, working as a trader on the Navajo Reservation, and as Preparator at the Museum of Northern Arizona, under Kachina expert and author Barton Wright.
In 1967, he began camping and traveling among the Navajo and Pueblos and at every opportunity, sketching, painting, and attending ceremonials. The Kachina dolls from which his paintings are usually derived are part of collections of the Southwest Museum in Los Angeles, the Heard Museum in Phoenix, the International Folk Art Museum in Santa Fe, or the Millicent Rogers Museum in Taos. Some are from private collections, including his own.
Farnsworth has been captivated by Kachina images for their intrigue, mystery, and power. He believes they are alive, primordial and sophisticated; that they speak of other worlds are are carriers of messages, prayers and bringers of rain and life; and that they are of the earth and of the sky and of the air and of the water that flows through every thing.



###
David Anthony Fine Art (DAFA), located at 132 Kit Carson Road, Taos, New Mexico, was founded by long-time Taos furniture maker David Mapes in 2011. Each year, the gallery hosts the DAFA Photography Invitational showcasing photographers from throughout the world. The mission of DAFA is to exhibit the work of accomplished fine artists and exceptional crafts people in a setting that is welcoming and accessible to all.