Tim Yardic
Tim first became involved with glass as an art form in 1991. It was a means of escape from a stressful job in Law Enforcement. Spending time working with glass took his mind to different places and allowed him to fulfill a fascination that he has long held with glass.  Biography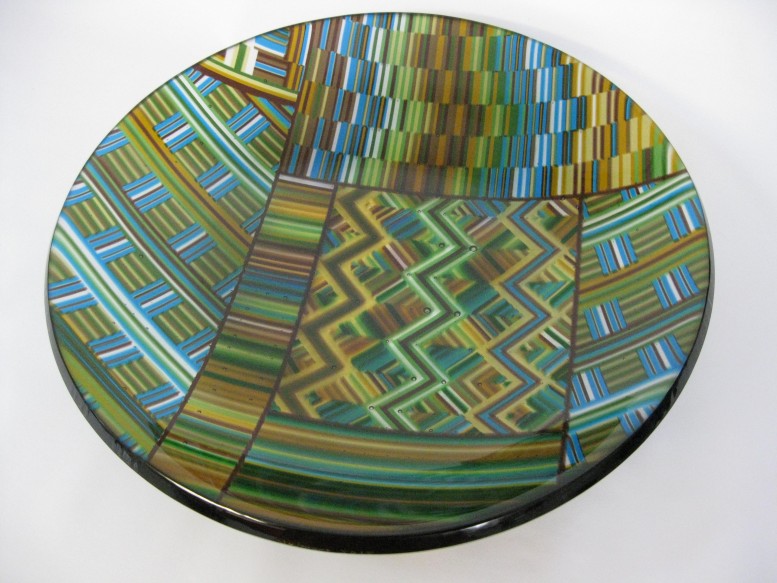 "Reflections I"
20 x 4″     $1400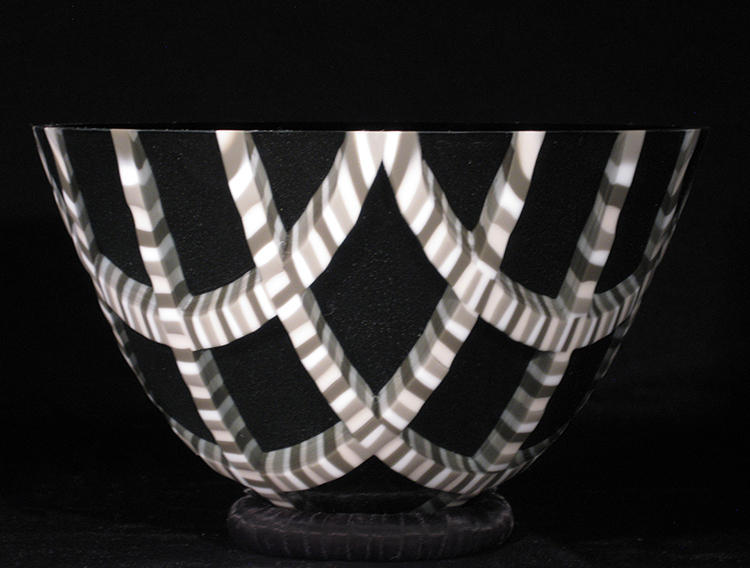 "Shades of Gray IV"
12 x 8″     $1800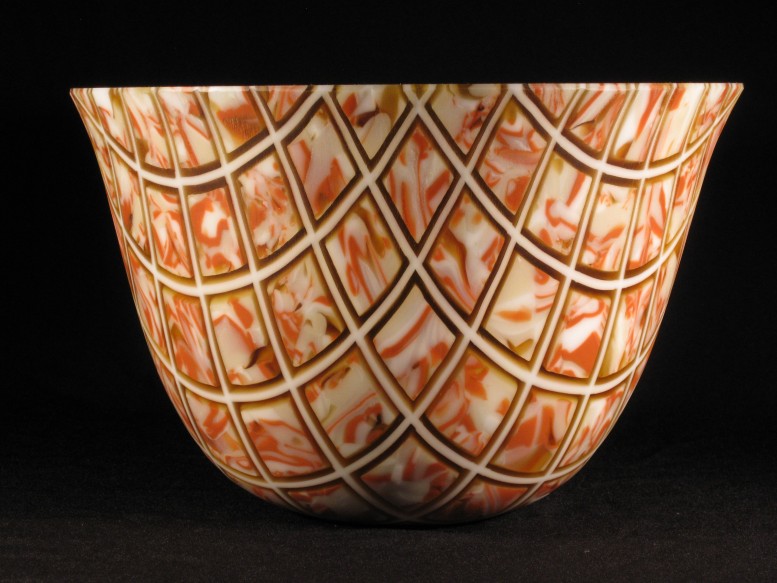 "Melancholy"
10 x 8″     $1200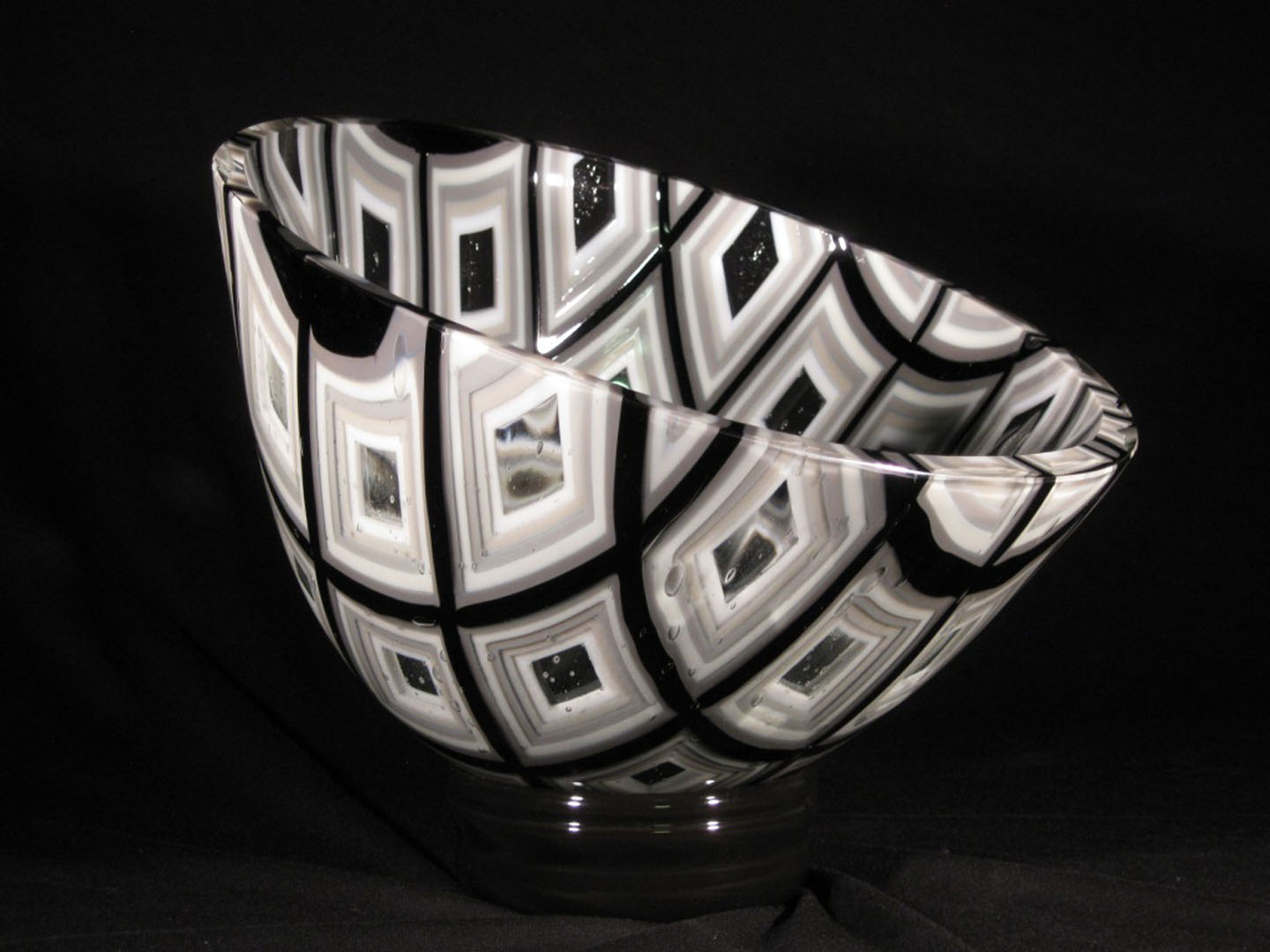 "Shades of Gray III"
8 x 6″     $1000
After completing a 29 year career in Law Enforcement, Tim is now a professional artist full time. In 2009 Tim took his first glass fusing class and that same year opened a small art glass studio and retail supply store, The Glass Hole, located in Reno, Nevada. Hooked on warm glass, Tim continued classes with internationally recognized artists and has spent many hours studying, researching and experimenting with kiln-formed glass.
In 2013, Tim closed his retail store so that he could more fully concentrate on his own art. He and his wife, Karyn, and their French Bulldog, Buddy, moved to Pollock Pines, California where Tim has a studio just steps from the back door of his house. Tim has completed a number of series of different works, continuing to experiment and find his direction. With all of his work, he tries to bring to others the same fascination that he has with glass, by the colored light that it creates, by its flow, by its shared strength and fragility and by its endless artistic options.
Tim Yardic is a self-taught artist. He was born in 1958 in Yuma, Arizona into a Park Service family. Always living in National Parks during his childhood years, Tim developed an appreciation of his majestic surroundings and the artistry which it represents. Tim began his artistic career through the lens of a camera and throughout his lifetime has dabbled in many things that allowed him to fulfill his creative needs, from painting and ceramics to home remodeling and landscaping, and finally into his passion of working with glass.
Back to top
Résumé
Glass Education:
1991 – Stained Glass, Artisans in Stained Glass, Sparks, Nevada
2009 – Glass Fusing, Washoe County Community Education/Rachel Salvagione
2010 – Glass Fusing, Rainbow Glass/Phil Teefy
2011 – Dimensional Kiln Forming & Pate de Verre, Rainbow Glass/Phil Teefy
2011 – Cold Working Glass, Bay Area Glass Institute/Johnathan Schmuck
2011 – Glass Casting, Bay Light Glass Art/Dan Fenton and Patricia Odoherty
2012 – Precision Fusing, Bay Light Glass Art/Dan Fenton
2014 – Advanced Fusing Techniques/Patty Gray
2014 – Glass Blowing Roll-Ups/Cayn Thompson
2015 – Fritography With a Twist/Michael Dupille
2015 – BECon 2015 – Bullseye Glass, Emeryville
Non-Glass Education:
1979 – AA Degree in Criminal Justice/Butte Junior College, Oroville, California
1989 – BS Degree in Law/William Howard Taft University, Fountain Valley, California
Professional Affiliations:
Glass Alliance of Northern California
Shows:
2012 "Ebullience" at Artineering Studios, Reno, Nevada
2013 "Vivid" at Reno Artist's Co-op, Reno, Nevada
2013 "Celebration of Life" at Moon Mountain Gallery, Richmond, California
2013 Pilchuck Glass School International Glass Auction
2014 Pilchuck Glass School International Glass Auction
2015 "Where Silica Meets Silicon Valley" ; Higher Fire Gallery, San Jose, California
Collaborative Work:
2012
When Dan Fenton became very ill, I was honored by his trust in taking a number of his partially completed projects to my own studio for completion so that they could be sold to allow his studio to continue. Together we completed six (6) pieces, several which were displayed and sold at the "50 Years of Studio Glass" celebration hosted by The Crucible in Oakland, California.
2014
This year I had the opportunity to work with Master glass blower Cayn Thompson from Seattle, Washington, and Theoren Hanks, a 15 year old glass blowing prodigy who has already worked with Dale Chihuly, Lino Tagliapietra and Dante Marioni. Together we completed the first piece in a new series that I will be working on.
Honors and Awards:
2012 – Delphi Glass On-Line Art Glass Festival/3rd Place –Glass Sculpture
Bibliography:
2010 – Reno Gazette Journal/ Stained Glass Serves as Second Career
2011 – Reno Talent Magazine
2012 – Reno News and Review/ Mixed Media
 Related Professional Experience:
2009 to 2013 – Owner of The Glass Hole Art Glass Studio and Retail Supply Shop
2013 to Present – Owner/Artist at Yardic Glassworks
Back to top