"Out of This Earth" by Hank Saxe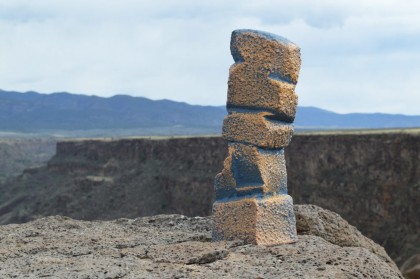 "Out of This Earth" Exhibition features new works by Hank Saxe in his first solo show since last years exhibit at the Harwood
Artist's love of science and nature combine to test the limits of the ceramic medium
David Anthony Fine Art is now exhibiting works of ceramic sculpture by Hank Saxe. "These pieces highlight Hank's virtuosity," says DAFA owner David Mapes. "They exemplify the skills Hank has shared with other artists, and allow visitors to the gallery to experience his work on a more intimate scale than his architectural sculptures." In Saxe's work there is an ambiguity where the viewer never knows exactly what they are looking at; is it landscape, raw geometry, a sculpted object or a natural geologic feature?
Says Jack Smith, a longtime Taos artist, "If I had to choose one word for Hank's recent sculpture I would have to say "laconic" comes first to mind. They are concise works which share a subtext of sophisticated humor from the cartoon modern era of the 50's, which informed the evolution of modern style, yet they plumb the depth of sacred landscape from the Mogollon Rim to the Rio Grande rift in the great Southwest. It is an exquisite marriage of the lineage of ancient natural forms, informed and torqued into modernity by way of a quite brilliant, clever mind and his command of alchemy."
Hank Saxe is an artist whose style and mastery of ceramic art is recognizable to collectors because they have seen signs of it before. Hank Saxe has long been the technical and mechanical genius behind the works of sculptors like Jim Wagner, Lynda Benglis and Lee Mullican. From Tucson to Taos, Las Vegas to Oklahoma City, people experience his architectural and sculptural installations on a daily basis in the public realm. In Taos, Hank's work graces the entrance to the UNM Klauer campus.
Saxe's fascination with "earth forms" is evident especially in the works that will be on display at DAFA this spring. In sculpting these pieces Saxe has endeavored to "take the advice of the clay", allowing each piece to become an expression of the land that so inspires him. With his use of found clay and minerals from the local environment Saxe has combined his knowledge of geology and mineralogy with his observations of how the earth shapes itself, in order to create these remarkable ceramic expressions.
Hank Saxe's work will be featured at DAFA beginning with an opening reception on Saturday, May 10th from 4 to 6 pm.
David Anthony Fine Art, (DAFA), located at 132 Kit Carson Road in Taos, New Mexico, presents the most innovative artworks from Taos and around the world, considering all genres, mediums and artists, in an environment that is accessible and welcoming to all.
This slideshow requires JavaScript.