50th Anniversary Celebration – Beatles Tribute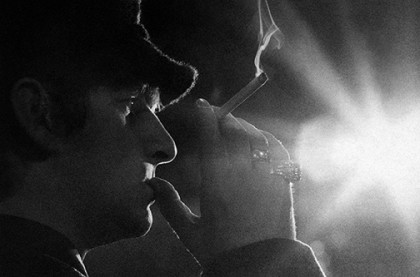 A Day in Mike's Life
by Jeff Dufour | Modern Luxury | December 30, 2013
Fifty years ago, the Beatles made history in DC—and Mike Mitchell's photos tell the story.
History has a funny way of unfurling itself, and then, sometimes, doubling back. Dupont Circle photographer Mike Mitchell knows this well. He was 18 years old on Feb. 11, 1964, the day the Beatles played their first concert in the United States at DC's Uline Arena—and he wasn't there just to see the Fab Four, but to document the event.
Mitchell was directly in front of the stage that night, clicking away as a budding photographer. "I had heard the music, and I identified with it," says Mitchell. "I really wanted to be part of the whole thing." And part of it he was. Long before photographers were corralled and managed, Mitchell and his 200-odd fellow journalists had free reign during the evening.
And so it will be again. With the arena now fallen into disrepair and slated for development, the DC Preservation League and Douglas Development will stage a re-enactment of the show's 50th anniversary next month. When most of the 3,000 exclusive ticket holders hear a Beatles tribute band launch into "Roll Over Beethoven" at precisely 8:31pm, they'll take it on faith that it's just what the lads from Liverpool sounded like.
At one point during the historic concert in 1964, Mitchell climbed the stage behind the band at their pre-show press conference. "Even as an 18-year-old kid, I was determined to find a unique perspective," he says. "As far as I know, I was the only one to do that. No one stopped me." The shot he got from that angle turned out to be the jewel of the set when he put them up for auction through Christie's in 2011, fetching $68,000 by itself. Those same shots will be on display before the concert next month.
An iconic group shot, brilliantly photographed from behind
That night "was a springboard for my sensibility" as a professional photographer, Mitchell says. "I was forced—because of the conditions and my lack of equipment—to take my cues from what the light was inviting me to do. You will see that light is the sort of nucleus of my practice as a photographer."
---
Check out Mike Mitchell's Photo Gallery from 1964 at David Anthony Fine Art. All prints available for sale.